Our Christmas Trees
Our trees are FRESH, FRAGRANT & FARM GROWN. Nothing says Christmas more than the smell of a Real Christmas Tree!
We would like to take this opportunity to thank you, our awesome customers for the support.
Monterey Pine :.
The Monterey Pine is easily the favourite amoungst Kiwi's. It has great needle retention if kept well watered so there is Less Mess!. The tree presents a wide conical shape with heavy dense branches which is achieved from shearing the tree many times during its life time.
Cinco christmas Trees Stands :.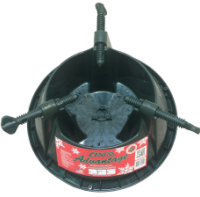 The Cinco Christmas Tree Stand, designed and made in the USA.

Overall diameter - 40cm

For trunks up to - 15.25cm

Steel centered plastic screw bolts

Metal spikes keep tree in position

Low, wide easy water feed

Holds 4.9 litres of water

Spill guard protects flooring

Made of no-break polypropylene
Christmas Tree Stands are just $35
The holy grail of tree stands. Our New Cinco Advantage Christmas Tree stands are excellent for our Xmas trees and are a great hassle free solution for keeping your tree healthy and upright.
PRICES:

Sorry, no Eftpos available, please bring cash

Quality Cut Pine

$20 - $35, 6 -7 foot (approx)

Potted Pine

$25 - 1m - 1.3m - 7 ltr pot
Cut Douglas Fir
Sorry folks, Unavailable this season.

Potted Douglas Fir

$40 - Size 80cm 1m - 1.3m.
Cinco Tree Stands
$35 - Great solution for all our trees.
christmas tree netting service :.
Tree Netting service is now available at ALL of our Christmas Tree sale locations. Great way to care for your fresh Christmas Tree and vehicle while transporting it home!

Our netting is strong and flexible, it makes buying and handling our Christmas Trees convenient but most of all eliminates the NEEDLE DROP in your vehicle!

Douglas Fir :.
Sorry folks, these are unavailable this season.
Douglas fir is liked for their dense bushy shape and fine soft green needles. They have a distinctive pine-like scent, and that fragrance seems to last through the entire Christmas season. Easily decorated, Douglas fir is able to support a large number of Christmas tree lights if you really like to light it up!

Christmas Tree Care :.
Here are some quick tips to ensuring your Christmas tree maintains its quality once you get it home:
Before taking your tree inside, gently bang the Balsam Tree on its stump several times to dislodge any loose needles. Just before placing it in the stand, cut several centimetres off the trunk. This allows it to continue drinking.
Make sure your tree has a sturdy Christmas Tree stand that holds 4-6 litres of water. Check it daily.
Stick to plain drinking water since research shows many additives like sugar, cola and aspirin do more harm than good.
Place your tree away from any heat sources like registers and even windows that get a lot of direct sunlight. Use only approved lights, checking them over annually for faults.