Needle Fresh - Christmas Trees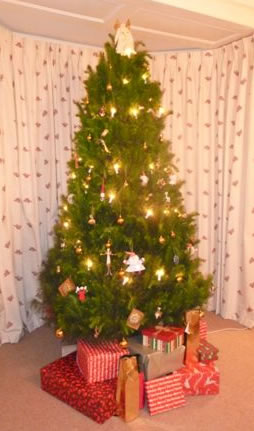 Needle Fresh Farm operates a Wholesale Christmas tree business located just outside Christchurch city, New Zealand. We supply great looking trees to schools, local retail outlets along with our own sites during December.
We are growers of the Monterey Pine, the scent you remember from those Christmas's long ago. We also have a limited number of Douglas Fir, which are finding their place in the New Zealand market with many northern hemisphere folk. All our trees are 'handled', which means the bottom branches have been cut away during growth, so it fits in your tree stand perfectly.
We also sell potted Pine. Along with potted Douglas Fir. These can be a quick an easy option when selecting your tree. If you have GREEN FINGERS you may even be able to use it next year! These like cut trees need plenty of fresh water daily.
Treat your Christmas tree like cut flowers. After all, they are plants too!
Our trees are environmentally sustainable. We have 15 acres with approximately 25000 trees, from seedlings to 10 feet tall. Every acre of trees produces enough oxygen for 18 people per day. Our tree lot sustains life for 270 people! Every tree that is cut is replaced with a new seedling.